W.W. Flowe Park Master Plan
The City of Concord Parks and Recreation Department is seeking community feedback on the creation of a master plan for WW Flowe Park. The park is a total of 42.6 acres, and includes a baseball field complex with press box and concessions, a large, undeveloped multi-use field in the back, volleyball courts, a playground area, several small shelters, and a trail system. It is located at 99 Central Heights Drive. The park was previously owned by Cabarrus County, and has just recently been deeded to the City of Concord. The CIty is seeking input to create a new vision for the park, including what facilities and amenities to preserve and/or renovate, what new features to include in the park, and what priorities the CIty should consider for funding over the next 5-10 years.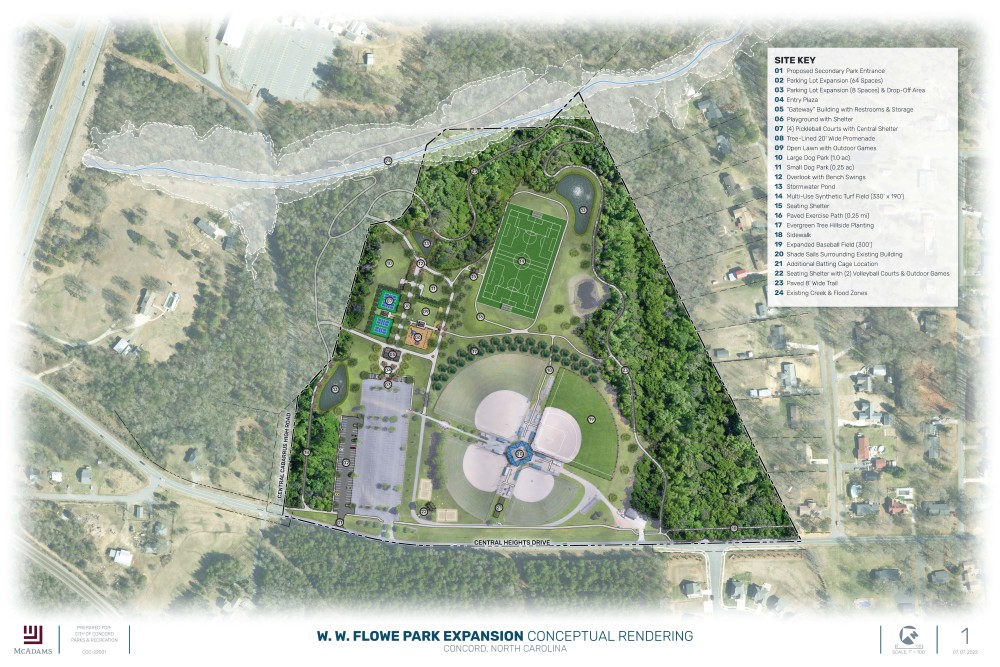 This schematic drawing shows a few suggested additions to the park for context of what COULD be done to improve the overall experience at WW Flowe, but is for illustrative purposes at this point pending public feedback. It suggests additions of Pickleball courts, small and large dog parks, a new playground, new soccer/multi-use field, additional parking, added trails and connectivity, expansion of one baseball diamond, new buildings and shelters, and new shade canopies at the existing pressbox building. At this time, the City has not completed cost estimates for this park, or identified priorities or a phasing plan for improvements. This master plan is intended to guide budget decisions over the next 5-10 years and will be based on the public input we receive.
City Staff invites the public to participate in our online survey and answer the questions below.
City of Concord, NC Survey
City of Concord, NC Survey
City of Concord, NC Survey
City of Concord, NC Survey
City of Concord, NC Survey
City of Concord, NC Survey