Caldwell Park Master Plan Community Feedback
Community invited to provide input at October 14 Community Workshop.
The City of Concord is beginning the process to develop a Master Plan for Caldwell Park. The plan will spell out the overall vision for the park and outline improvements to the park including improvements in safety, adding multi-purpose fields to accommodate a variety of sports and programs, expanding and reconfiguring parking, connecting trails and sidewalks throughout the park, and designation of new and/or expanded features. This process will involve feedback from residents.
Please help us develop the plan by providing input during the interactive Community Workshop which will be held at at the Daniel Pharr Community Building located at 362 Georgia St, SW on Monday October 14, 2019. All residents and stakeholders are invited to participate in this public input opportunity. Attendees will learn more about the Master Planning process and participate in engaging and interactive activities designed to produce feedback on creative solutions to enhance Caldwell Park. Drop in anytime between 5:00 p.m. and 7:00 p.m.
Feel free to leave any comments or ideas here. Your feedback is important and will help us ascertain the needs and satisfactions of park facilities.
For more information, please contact Jason T. Pauling, AICP – Senior Planner at 704-920-5641 or [email protected]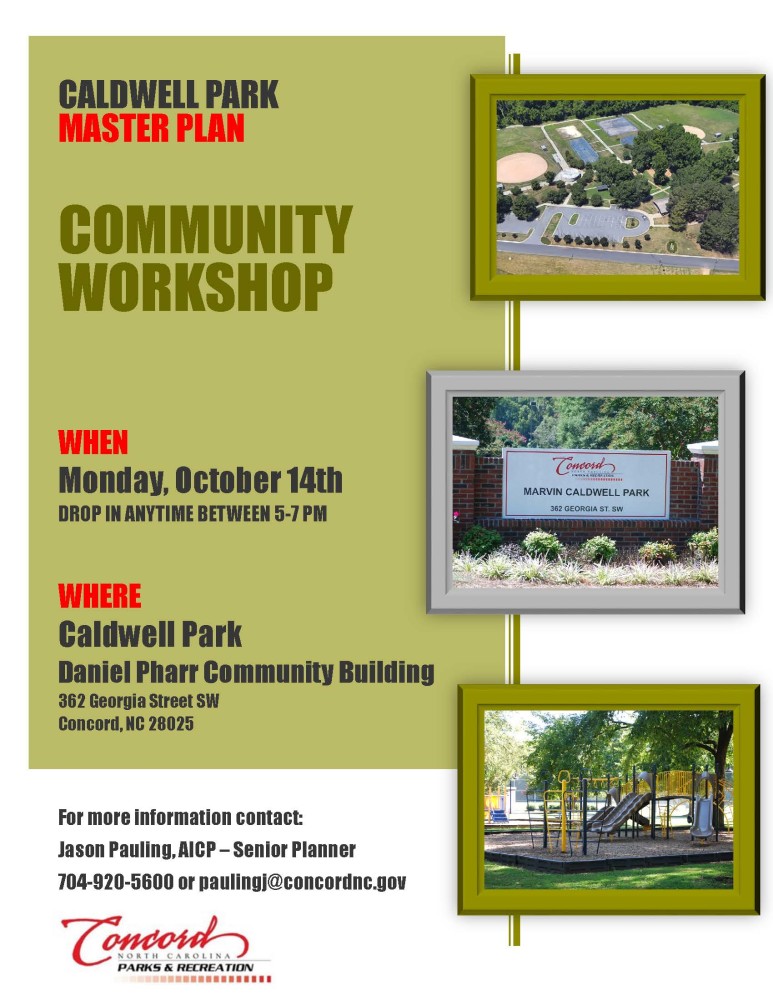 ABOUT THE PARK
Marvin Caldwell Park, located at 382 Georgia Street SW, is one of the City of Concord's oldest parks with a lot of history. The Parks and Recreation Department in accordance with the Comprehensive Parks and Recreation Master Plan recommends a new master plan for Caldwell Park to help guide the department and the City's Capital Improvement Plan. The master plan seeks to address the following primary components:
SAFETY – The redesign of Caldwell Park seeks to address safety by making the park more accessible, more visible, and more inclusive. This can be achieved through the design by a nationally-recognized process known as Crime Prevention Through Environmental Design (CPTED). There are several ways to achieve these goals shown on the proposed concept plan, such as:
Expanding and reconfiguring parking with an internal loop drive to assist with park monitoring, and traffic flow.
Increasing parking and adjusting driveway locations to line up with cross streets of the Logan Community.
Trails and sidewalks throughout the park, and sidewalk connections to the park, such as along Georgia Street.
Adding multi-purpose fields capable of accommodating a variety of sports and programs, vs. baseball/softball fields, which is limited
Removing fencing in several locations that are inaccessible.
Replacing and /or reconfiguring many of the buildings and shelters within the park by removing walls, hidden corners, and reconfiguring doors and openings to be visible from all locations, especially the park entrance.
Providing new, inclusive and ADA accessible playgrounds for all ages and abilities, with poured in place surfacing, new swings, and interactive elements
Separation of programmed, athletic, and scheduled uses (fields and shelters) from daily park features and functions such as playgrounds, basketball, tennis, etc.
CONNECTIVITY – With the adoption of the Open Space Connectivity Analysis, and in concert with Council goals on connectivity, the first section of Irish Buffalo Creek Greenway is identified in this plan, and also included in the CIP. This section of greenway stretches from Lincoln Street, where a new trail head and parking lot is planned, to Melrose Drive within the Logan Community. Developing this greenway will add to the City's overall system, and simply by providing a more significant opportunity to walk or bike within Concord, will increase park visitors and users. In addition as mentioned above, trails are planned throughout the park in order to connect all components, and also sidewalk is planned along Georgia Street.
PROGRAMS AND ATHLETICS – Currently as mentioned above, the park only offers baseball vs. a more multi-use athletics component. The plan provides the option of multi-purpose fields, which may include baseball and other athletic functions. Multi-purpose fields are also compatible for programming purposes and events. The plan also adds a covered court space in lieu of some of the fenced basketball courts in order to create a space for summer camps. The plan also recommends relocating the small amphitheater, which is limited in its function, capacity, and location, to one end of the larger multipurpose field, and creating more of a bandshell/open-air facility that can be used for a larger number of events and festivals. There's also an area for food trucks, which eliminates the need for out-dated concession areas.
City of Concord, NC Survey