Dorton Park Master Plan
Community Invited to provide input at April 8 Community Workshop.
The City of Concord is working to develop a Master Plan for Dorton Park. The Master Plan will outline improvements to the park including possible renovation of existing facilities, connecting trails to the future greenway, restoring/stabilizing the Afton Run Branch stream, and designation of new and or expanded features.
The City of Concord is hosting an interactive Community Workshop at McGill Baptist Church (5300 Poplar Tent Road) on Monday April 8, 2019 to assist in the development of the Dorton Park Master Plan. All residents and stakeholders are invited to participate in this public input opportunity. Attendees will learn more about the Master Planning process and participate in engaging and interactive activities designed to produce feedback on creative solutions to enhance Dorton Park. Drop in anytime between 5:00 p.m. and 7:00 p.m.
For more information, please contact Jason T. Pauling, AICP – Senior Planner at 704-920-5641 or [email protected]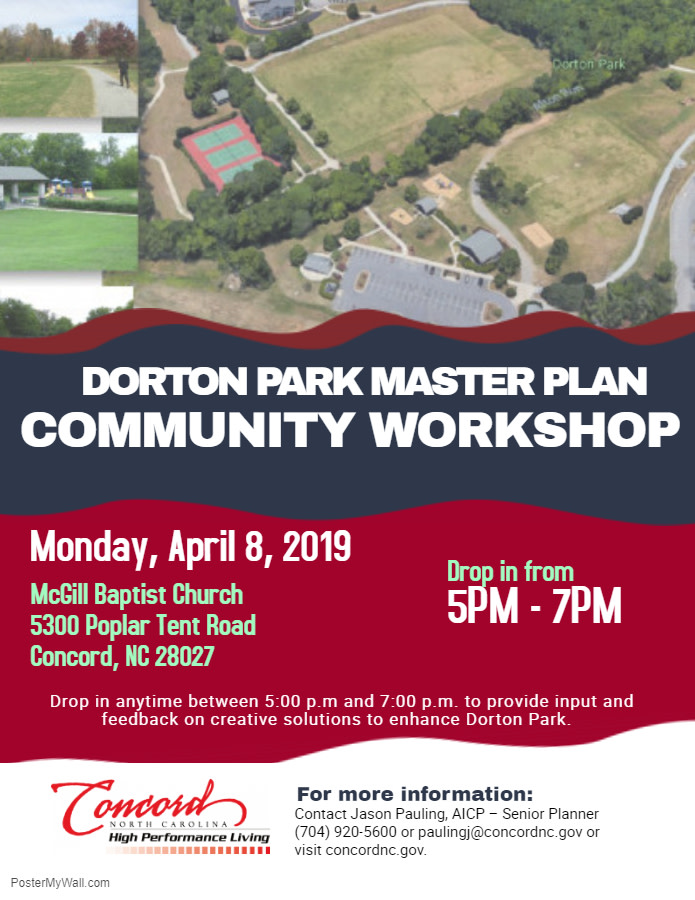 ABOUT THE PARK
Dorton Park, constructed in 2002 is located at 5790 Poplar Tent Road, just adjacent to the Afton Village neighborhood. This 24 acre park has played host to numerous large scale functions including the City of Concord sponsored Annual Bunny Bash and 5k Fun Run. Recreational amenities in Dorton Park include 3 tennis courts, a large and small tot lot/playground area, soccer fields, 9-hole disc golf course, 1.1 mile walking trail, 3 picnic shelters, restrooms and concession stand.
City of Concord, NC Survey